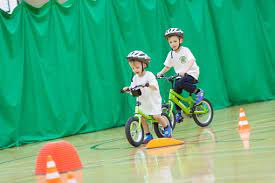 What is Bikeability Balance?
Bikeability Balance is a programme designed for all children in EYFS (Early Years Foundation Stage) and KS1 (Key Stage One)- even for those who can already ride a bike! Courses are free and take place in school hours. Sessions normally take place in the school playground but can also be moved to a school hall in poor weather. Helmets and bikes are provided.
Why is Bikeability Balance good for children?
With 40% of 6 year olds unable to cycle, Bikeability Balance teaches children the building blocks of this important life skill.
For children who can already cycle, Bikeability Balance builds core strength in the body and hands (great for increased handwriting and posture strength in class!). It also equips them with key skills ahead of their Bikeability  Level 1 and Level 2 training later on in their school journey.
Bikeability Balance is taught through games and music, making learning to ride fun and memorable.
Bikeability Balance helps children with their spatial awareness, socialisation and turn taking skills.
Children have the opportunity to be creative while developing motor skills and body awareness.
What does the course look like?
Group size: Children are trained in groups of 10 (maximum) by two nationally accredited cycle instructors, and we run 6 groups per day.  Each child takes part in three  30 minute sessions from Monday-Wednesday with mop up sessions on Thursday.
Content: Activities and games to improve the trainees' bike handling, signalling and ability to look behind while riding.
Location: Bikeability Balance is playground-based. The area is risk assessed by an instructor prior to use.  The playground or a large tarmac space must be available for the trainees' sole use during the session times.
Post session: Each child receives booklets and badges will be left with you at the end of the course.
Planning:Schools are supplied with a participation register and parent/guardian consent forms to complete ahead of the session
Bikeability Balance is aimed at year 2 pupils, with the option for year 1 pupils to also take part in one form entry schools. Our courses run Monday-Thursday and train 60 children across the week 6 groups of 10 children, completing 3 sessions per group). Please see below for a typical course schedule (*the times indicated in the table are an example and can be adjusted to meet your school's needs)
Monday
Tuesday
Wednesday
Thursday
9.05-9.45
Group A
Group A
Group A
top-up*
9.50-10.30
Group B
Group B
Group B
10.35-11.15
Group C
Group C
Group C
11.20-12.00
Group D
Group D
Group D
12.00-13.00
Lunch time
13.00-13.40
Group E
Group E
Group E
top-up*
13.45-14.25
Group F
Group F
Group F
* top-up: For any children that would benefit from some extra support, or have been unable to attend one of the sessions earlier in the week.
Please note: The times indicated in the table above are given as an example: we are able to work around your school's schedule.
If you have any questions about a booking you have made please contact cycletraining@islington.gov.uk.
For more information about Bikeability Balance please click here.