Please see current availability listed here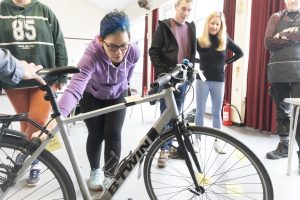 These classes cover the basics of cycle maintenance.  We should be able to cover: checking, cleaning and fitting your bike; removing a wheel and tyre to fix a puncture; adjusting different types of brakes;
Venue

Birchmore Hall, N5 2UA

Dates

Sunday 1 October, 2023

Sunday 1 October, 2023

Sunday 29 October, 2023

Sunday 29 October, 2023

Sunday 26 Nov, 2023

Sunday 26 Nov, 2023

Times

10am- noon

1pm-3pm

10am- noon

1pm-3pm

10am- noon

1pm-3pm

Book
If these sessions are fully booked, please contact us to be put onto our waiting list.
Basic Bicycle Maintenance Manual
If you can't make it to one of our courses, but still want to try some home maintenance, have a look at the basic bicycle maintenance manual provided free from the London Cyclist.
You can also find out how to carry out an 11-step M-check of your bike on this Sustrans page, or watch the video.

Cycle Maintenance Workshops
Some local borough cycling groups run cycle maintenance workshops. These are often volunteer-led, and can offer you advice and help to maintain your own cycle:
Note: The three courses listed above are not run by or affiliated to Islington Council