Get rolling in 2017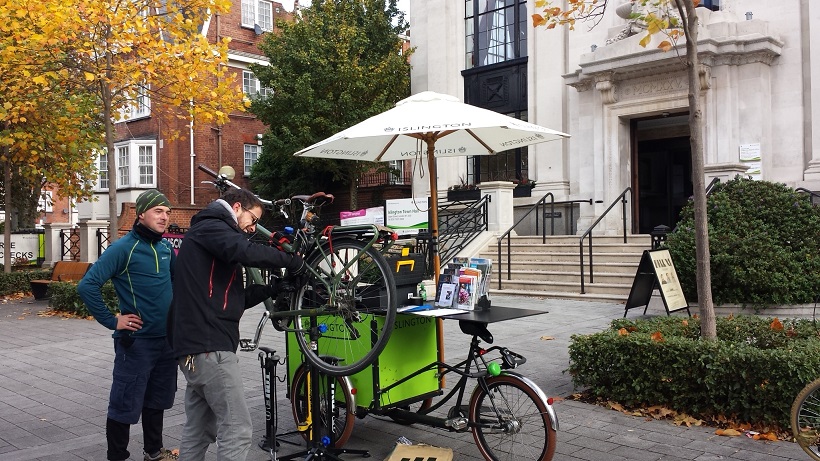 NEW: Monthly Dr Bikes
From 1 February we are running free Dr Bike sessions outside the Town Hall (Upper Street, N1 2UD) on the first Wednesday of every month from 4pm-7pm.
Our mechanics can check everything on your bike from wheels, brakes, gears and tyre pressure to lights, racks, pedals, saddles and more. Any minor adjustments we can make to your bike, we do there and then. If there is something we can't fix, we'll let you know exactly what needs doing and a rough guide to what it should cost to repair at a local bike shop.
All our mechanics are friendly and approachable and have a wealth of cycling knowledge, so feel free to pick their brains about our cycle skills training or other cycling activities. There is a full list of dates here.
NEW: This Girl Can Cycle – for women and girls
If you are female and aged 14 or over you can learn how to ride confidently in London. Our This Girl Can Urban Cycle Skills course will introduce you to riding your bike on quiet local streets, dealing with junctions and finding out how to cycle in traffic. We have a morning course (10.00-12.00) and an afternoon course (13.00-15.00), both take place in Finsbury Park. Bikes and helmets will be provided (or you are welcome to bring your own).
And there are all our usual courses:
Bikeability for children
We have a full programme of free cycling courses for children in the February half term. Choose from:
Beginners (age 5-12) for children who can't yet ride without stabilisers
Bikeability Level 1 (age 5-9) teaches bike control skills off road
Bikeability Level 2 (age 9-12) get the skills to ride safely on road
They are taking place at venues in N19, EC1* and N1. For full details and to book, click here.
*The courses at the EC1 site have some bikes available to borrow – see website for details.
Cycle skills for adults
If you're a beginner (or an improver) and want to practice off-road to learn to ride a bike, you can do a free basic cycle skills group course. More advanced cyclists wanting to improve their on-road riding can book some individual cycle skills sessions.
Cycle skills for families
To learn how to ride together as a family, you can book family cycle skills sessions.
NEW: Cycle sport for young people
Starting in March Islington Cycling Club is holding weekly coaching sessions for 8-15 year olds in Finsbury Park. Sessions take place on Saturdays 10am-12.00noon and are run by experienced British Cycling coaches.  There is a range of activities from cyclocross, time trialling to road racing in a safe and enjoyable environment.
Whatever ambitions a young rider has, whether that's competing at events or simply to have fun cycling, the coaches will accommodate them and help to achieve their goals.
Your child will need:
A bike and helmet in good working order
Comfortable clothing
A signed parental consent form (available on the day)
The cost is £5 per session (£3 for members).
Club membership is £40, which includes a club jersey.
Register your interest by emailing secretary@islington.cc
London Youth Games – Islington Cycling Club will select and train the squad of boys and girls to represent borough for the time trial and circuit races at the annual London Youth Games on 18 June. To be eligible for the LYG you must be living in or attend school in Islington.
Islington Cycling Club is a registered Go-Ride club and part of British Cycling's development programme for young people.