Autumn may be here, but there are still so many reasons to keep riding. Yesterday was Cycle To Work Day – we hope you did. It's also Cycle September, and if you log just one 10-minute ride in the Love To Ride website, you could win a prize.
Square deal
On Friday 22 September it's Car Free Day, the perfect time to hop on a bike! In fact, we're running a led ride that day from the newly-opened Archway Square (above). This lunchtime ride will last 45 minutes, just right for a refreshing break. Sign up here to book your place. There will also be a Dr Bike in the square from 8am-2pm, so you can get your bike tuned up nicely for the ride.
University challenge
City, University of London, are getting in the saddle with a led ride on Wednesday 4 October at 1.30pm. This ride is themed Uncovering Secrets, taking in Islington's green and pleasant past and some of the borough's most elegant Georgian Squares, starting at Northampton Square and ending at a local café. Please book in advance here.
Cycle Islington are joining forces with Camden Cyclists to offer a free led ride to Lee Valley later this autumn – details here. Sounds fun!
You can also find locally organised rides on British Cycling's Let's Ride website. Or you can post a ride that you're running there.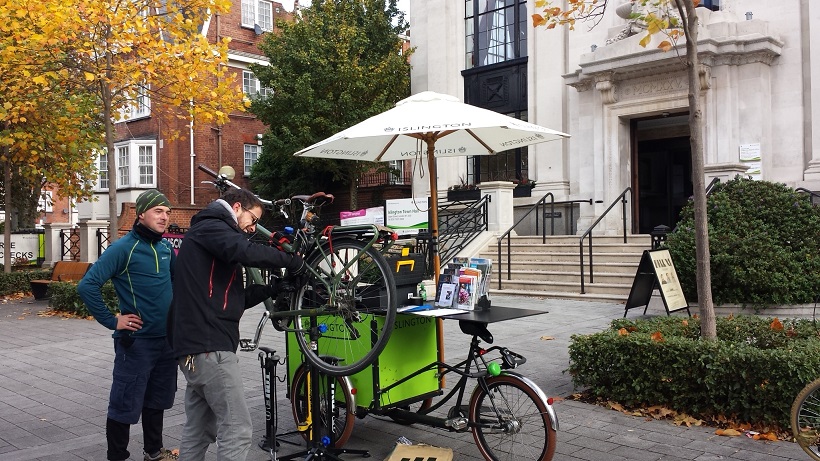 Doctor who?
The council runs free Dr Bike sessions at the Town Hall on the first Wednesday of every month, 4pm-7pm, Upper Street, N1 2UD. Our mechanics can check everything on your bike from wheels, brakes, gears and tyre pressure to lights, racks, pedals, saddles and more. Any minor adjustments we can make to your bike, we do there and then. If there is something we can't fix, we'll let you know exactly what needs doing and a rough guide to what it should cost to repair at a local bike shop.
Girl pedal power
If you are female and aged 14 or over you can learn how to ride confidently in London. Our This Girl Can Urban Cycle Skills course will introduce you to riding your bike on quiet local streets, dealing with junctions and finding out how to cycle in traffic.  We have courses this autumn in Finsbury Park. Bikes and helmets will be provided (or you are welcome to bring your own).  Places are limited, so book soon:
Saturday 21 and Sunday 22 October, 10am -3pm, book here
Saturday 25 and Sunday 26 October, 10am -3pm, book here
Plus all our usual courses
Islington Council has a programme of free Bikeability courses for children in the half term holiday. Choose from:
Beginners (age 5-12) – for children who can't yet ride without stabilisers
Bikeability Level 1 (age 5-9) – teaches bike control skills off road
Bikeability Level 2 (age 9-12) – get the skills to ride safely on road
They are taking place at venues in N4 and N1. For full details and to book, click here.
Cycle skills for adults
If you're a beginner (or an improver) and want to practice off-road to learn to ride a bike, you can do a free basic cycle skills group course. More advanced cyclists wanting to improve their on-road riding can book some individual cycle skills sessions. Cycle skills for families To learn how to ride together as a family, you can book family cycle skills sessions.
Discover your va-va-Froome
Islington Cycling Club runs weekly coaching sessions for 8-15 year olds in Finsbury Park. Sessions are every Saturday, 10am-12.00noon and are run by experienced British Cycling coaches.  There is a range of activities from cyclocross, time trialling to road racing in a safe and enjoyable environment. You can try it out for £5. Meet at the park café. Further details here.
Happy cycling!
The Bikeability and cycle skills team