Saddle and Sole
Save the date – Sunday 17 June – that's when the next Finsbury Park Festival of Cycling and Walking takes place. It's a bit of a mouthful, right? So, we've called it Saddle and Sole this year.
There will be loads of free cycling and walking activities on the day for you to try out.

Plus, if you are looking for a challenge, why not enter The Italian Job? Islington Cycling Club organise this 60-mile ride on 17 June which starts and finishes in Finsbury Park. True to its name, the ride has an Italian theme – riders are encouraged to showcase their Italian spirit in some respect. A prize will be awarded for whoever shows the most Italian style. The route heads north-west to a rest stop at Fillipetto's Deli in Little Chalfont, and returns to the park in time for Saddle and Soles. It costs £10 to take part and you can enter here.
___________________________________________________________________________________
Roll smoothly into spring with a whole range of free activities from the Islington Bikeability and cycle skills team.
Keep your bike healthy
Our free monthly Dr Bikes continue into the New Year – in fact, we are now offering two sessions per month at different locations. Come to the Town Hall on the first Wednesday of every month, or Navigator Square in Archway on the third Tuesday of every month. All sessions run 4pm-7pm, and you can view exact dates and locations here.
Our mechanics can check everything on your bike from wheels, brakes, gears and tyre pressure to lights, racks, pedals, saddles and more. Any minor adjustments we can make to your bike, we do there and then. If there is something we can't fix, we'll let you know exactly what needs doing and a rough guide to what it should cost to repair at a local bike shop.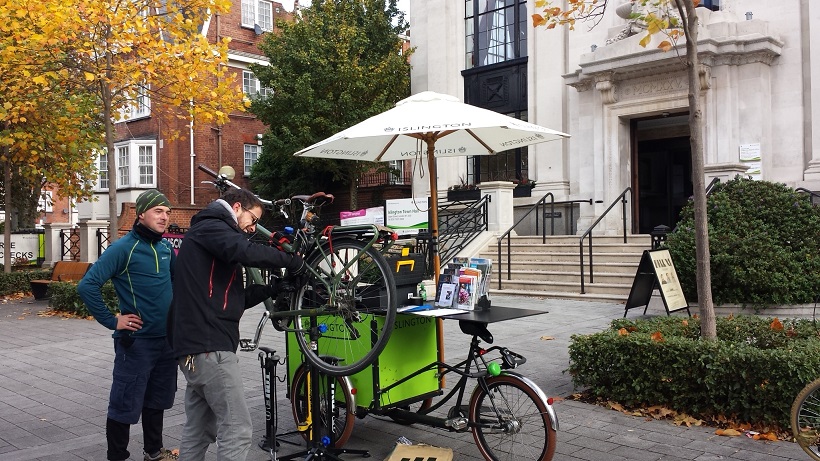 BikeFix at Birchmore Hall
Want some advice on bike maintenance? Want to learn how to fix a puncture or adjust your brakes? We're running monthly free drop-in sessions at Birchmore Hall (N5 2UA), where our expert mechanics can show you how your bike works, and teach you some useful skills to keep you riding. Please bring your bike and any tools you have. Your bike doesn't even need to be broken, you are welcome to come along if you just want to learn something new. No need to book, just pop in.
Sessions run on Sundays. The next one is:
Sunday 25 March, 10am-3pm
Plus all our usual courses
Islington Council has a programme of free Bikeability courses for children in the Easter holiday. Choose from:
Beginners (age 5-12)– for children who can't yet ride without stabilisers
Bikeability Level 1 (age 5-9) – teaches bike control skills off road
They are taking place at venues in N4 and N1. For full details and to book, click here.
Cycle skills for adults
If you're a beginner (or an improver) and want to practice off-road to learn to ride a bike, you can do a free basic cycle skills group course. More advanced cyclists wanting to improve their on-road riding can book some individual cycle skills sessions.
Cycle skills for families
To learn how to ride together as a family, you can book family cycle skills sessions.
---
Discover your va-va-Froome
Islington Cycling Club runs weekly coaching sessions for 8-15 year olds in Finsbury Park. Sessions are every Saturday, 10am-12.00noon and are run by experienced British Cycling coaches.  There is a range of activities from cyclocross, time trialling to road racing in a safe and enjoyable environment. Cost is £50 per term and you can do a try out for £5. Meet at the park café. Further details here.
Happy cycling!
The Bikeability and cycle skills team