Here comes the autumn…
Even if the nights are drawing in and it's getting cooler and wetter Islington Council can brighten your next few months with a range of cycling courses and activities for all ages. Cycling and active travel is particularly in the news at the moment and it's an exciting time to take to two wheels.
Half term Bikeability is back!
We have a programme of free Bikeability courses for children in the half term holidays from Monday 25 October to Thursday 28 October. We have a choice of venues in N4 and N1
Beginners (age 5-12) – for children who can't yet ride without stabilisers
Bikeability Level 1 (age 5-9) – learn bike control skills off road
Bikeability Level 2 (age 9-12) – learn how to ride on quiet local streets
They are taking place at venues in N4 and N1. For full details and to book, click here.
A group of pupils follow an instructor on the playground
Join our Big Bike Ride
Celebrate the finale of our Let's Talk About a Greener Future Festival with our Big Bike Ride around Islington on Friday 29 October, 10.30am-12.30pm. This family-friendly ride will start and end at Highbury Crescent on Highbury Fields, working its way through Islington's newly-designed street network. The Big Bike Ride will be marshalled by our experienced cycle trainers. Families are welcome and children should be at least 8 years old and accompanied by an adult. Places are limited and to take part you must book in advance. To book and get further details click here.
Dr Bike sessions
Our mechanics can check everything on your bike from wheels, brakes, gears and tyre pressure to lights, racks, pedals, saddles and more. Any minor adjustments we can make to your bike, we do there and then. If there is something we can't fix, we'll let you know exactly what needs doing and a rough guide to what it should cost to repair at a local bike shop.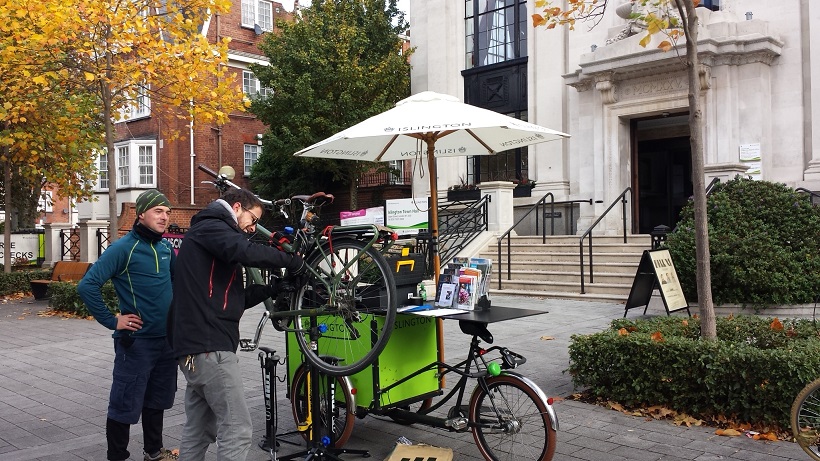 Friday 22 October, 1-4pm – Highbury and Islington station
Saturday 23 October, 10-4 pm – Dover Court Estate, Balls Pond Road, London N1 3HN
Wednesday 27 October, 2-6pm – Peregrine House Community Day, London EC1V 7PR
Friday 29 October, 1-6pm – Caledonian Park, N7 9TP
Wednesday 3 November, 5-7pm – Rosemary Branch Gastropub on Shepperton Road, N1 3DT
Try Before You Bike

If you are thinking of starting cycling, you can try a bike for £20 per month. The Try Before You Bike scheme allows you to try a bike for a monthly fee. Just choose your new bike and accessories using the helpful online tools, the bike gets delivered and you will be given a free Cycle Skills session to get you started.
Hire an e-bike
Lime offers the opportunity to hire an e-bike in Islington via the Lime app.
Human Forest offers the first 10 minutes of your ride free each day when you hire their e-bikes.
Cycle skills for adults, families and young people
If you want to improve your on-road riding, you can book some individual cycle skills sessions. You can also learn how to ride together as a family, by booking a family cycle skills session. And for 11-17 year olds looking to cycle to secondary school, we offer Independent cycle skills sessions.
New cycle routes in Islington
Islington has changed quite a bit over the last year. There are many new schemes in the borough that are designed to make it easier for you to walk and cycle. As part of the People-Friendly Streets programme there are several new Low-Traffic Neighbourhoods, School Streets and several new cycle lanes. You can see more details on the Council website.