Easter Bikeability
We have a programme of free Bikeability courses for children in the Easter holidays from Monday 3 April to Thursday 6 April We have a choice of venues in N4 and N1: 
Beginners (age 5-12) – for children who can't yet ride without stabilisers
Bikeability Level 1 (age 5-9) – learn bike control skills off road
Bikeability Level 2 (age 9-12) – learn how to ride on quiet local streets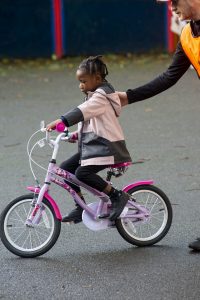 Get confident, get cycling

Urban and advanced cycle skills – 1:1 on-road sessions
If you live, work or study in Islington, why not book yourself a free adult cycle skills session and become a confident road cyclist? We can teach any level, provide you with a bike and meet you in a location and a time that suits you. Our adult 1:1 cycle skill sessions are kindly supported by Human Forest. If you would like to learn more about learning to ride one of their eBikes, click here.
How to fix your bike
Want some advice on bike maintenance? Want to learn how to fix a puncture or adjust your brakes? We're running sessions at Birchmore Hall, Highbury Quadrant, N5 2UA. Our expert mechanics can show you how your bike works and teach you some useful skills to keep you riding. Please bring your bike, if you have one, and any tools you have. Your bike doesn't even need to be broken, you are welcome to come along if you just want to learn something new. Sessions run at these times:

Sunday 26 March 2023 10am- noon
Sunday 26 March 2023  1pm-3pm

Click here to book.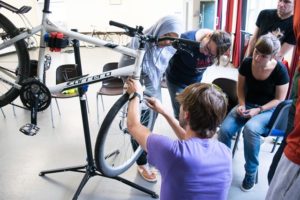 The Bike Doctor will see you now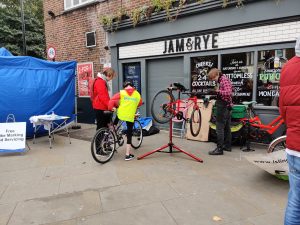 We are delighted to announce that Dr Bikes will be taking place on the first Tuesday of every month across the borough. Please check the Dr Bike page for dates and locations. At most of the events you will also be able to get your cycle security coded to help keep it safe.
Essex Road consultation
Islington Council is proposing changes to Essex Road to help create more pleasant streets and make it easier and safer to walk, cycle and scoot, including outside of New North Academy. The People-Friendly Streets team would like to hear from local people about how we can improve the area.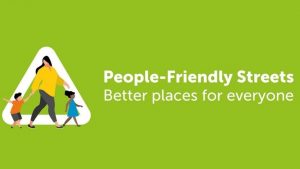 Buddy up!
The LCC now has its own platform for linking experienced cyclists with people wanting buddying.  The idea is that the former upload their profiles and the latter can then decide who they'd like to be buddied by.  Sign up here.
Social rides
Join the London Cycling Campaign's Women's Freedom ride on Sunday 5 March.  Starting in central London at 11.30am, this ride is for women, those who identify as women and their allies. Sign up for the feeder ride here, which sets off from Highbury Fields at 10.30am, returning at about 3pm.
Joy Riders in Islington and Camden have combined forces and have a programme of rides some from near the Crick Institute (where bikes can be borrowed from Camden Council) and some from Barnards Park (using own bikes): Rides on 8, 12 and 28 March with more being planned.  The ride on 8 March is a special one for International Women's Day to the V&A for a talk about Women in their collections, a talk especially for JoyRiders.
Happy cycling!
Bart and Patrycja