Get confident on two wheels at half term

We have free Bikeability courses for children over the next half term holidays from Monday 29 May to Friday 2 June. The majority of the sessions will run at our N1 venue but there are few  still available at our venue in N4:
Beginners (age 5-12) – for children who can't ride without stabilisers
Bikeability Level 2 (age 9-12) – learn how to ride on quiet local streets
As part of the Level 2 course, there is a Led Ride on Friday 2 June. Just arrive that day at the same venue you have attended that week at 1pm and the instructors will take you on a fun tour of the local area, finishing back at the start point
The Big Bike Ride is back

This family-friendly ride will start and end in front of Highbury Leisure Centre in Highbury Fields. The Big Bike Ride will be marshalled by our experienced cycle trainers. Families are welcome and children must be 8 years old and accompanied by an adult. Please arrive at 9.30am for a rider briefing and bike checks. The ride will then start at 10am and finish at noon back at Highbury Fields.
Places are limited and to take part you must book in advance. Click here to book and get further details.
Free cycle skills for adults and families

If you live, work or study in Islington, why not book yourself a free adult cycle skills session and become a confident road cyclist? We can teach any level, provide you with a bike and meet you in a location and a time that suits you. Our adult 1:1 cycle skills sessions are kindly supported by Human Forest. If you would like to learn more about learning to ride one of their eBikes, click here. You can also learn how to ride together as a family, by booking a family cycle skills session.
Adult group training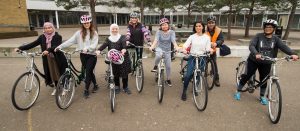 Basic Cycle Skills is an off-road course for those who can already ride a bike unaided and want to develop their bike control skills. Please note: this is NOT a course for beginners. Click here to book your place on our adult basic cycle skills session on 18 June at Haverstock Primary School, NW3.
Do you need a bike?

Our partner Peddle My Wheels runs the scheme called Try Before You Bike for Islington residents, where you can buy a child or adult cycle for a small monthly fee, and the cycle will be delivered to your door. You can also buy a cargo bike and now adapted cycles are available for those with specific requirements.
Cycling with joy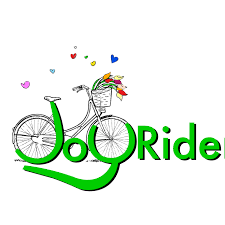 The Islington and Camden branch of JoyRiders have a led ride coming up this month from the Brill Place (where bikes can be borrowed). Please see the details below:
Can you fix it?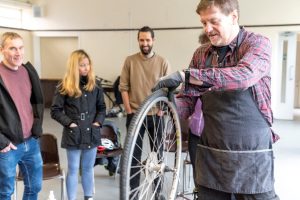 Want some advice on bike maintenance? Want to learn how to fix a puncture or adjust your brakes? We're running sessions at Birchmore Hall, Highbury Quadrant, N5 2UA. Our expert mechanics can show you how your bike works and teach you some useful skills to keep you riding. Please bring your bike, if you have one, and any tools you have. Your bike doesn't even need to be broken; you are welcome to come along if you just want to learn something new.
Sessions run at these times:
Sunday 28 May 2023 10am- noon
Sunday 28 May 2023 1pm-3pm
Sunday 25 June 2023 10am-noon
Sunday 25 June 2023 1pm-3pm
Sunday 30 July 2023 10am-3pm
Sunday 30 July 2023 1pm-3pm
Click here to book.
Traffic-free riding for all the family
The family event RideLondon Freecycle is back on Sunday 28 May – a brilliant opportunity to cycle on streets which have been made car-free for just one day.  Cycle Islington will be leading a group down to the start and back again. They will set off from Freightliners Farm at 10am and return at about 3pm. Please visit their website for more details on how to register What's coming up …. – Cycle Islington or check RideLondon website Ford RideLondon FreeCycle Led Rides – RideLondon for information on other led rides to Freecycle event.
Wanted: pre-loved bikes
Do you have an old bike which you would like to donate to a good cause? Islington Council is looking for bikes (in any condition) to be used in our All About The Bike project. This scheme benefits Islington secondary school pupils, who gain a bike, lock and learn basic bike maintenance, as well as taking Bikeability Level 3 training. If you can help, please contact patrycja.ozog@islington.gov.uk
SAVE THE DATE FOR OUR FESTIVAL
We have a date confirmed for this year's Saddle and Sole Festival. This will be a celebration of all things active travel and will take place on Sunday 24 September 2023 in Highbury Fields. More details will be available in due course.